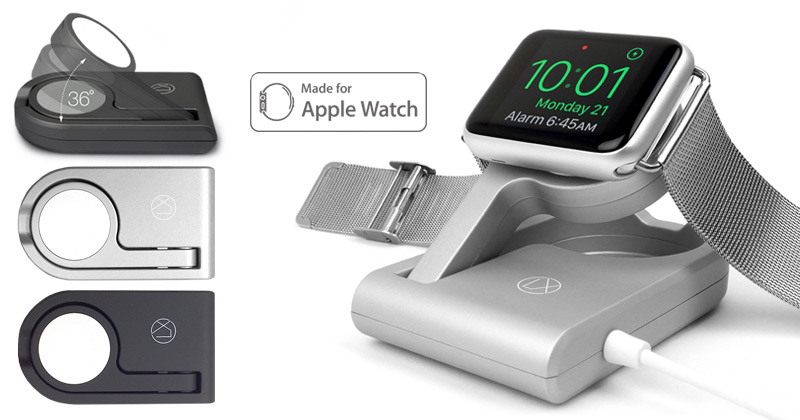 Foldable MFi Certified Apple Watch Charger Designed To Enable Nightstand Mode
If you have to replace your Apple Watch charger or just want a second one - this one might be just right. Perfect on your nightstand, desktop or on the go. The foldable design enables "Nightstand Mode" when the charger arm is lifted up. Push the arm back down if you want it to sit flat on a table or fit into your travel bag.
The charger was tested by Apple and certified to be compliant with Apple standards (MFi certified) so you don't have to worry if it works with your Apple Watch or not. It does.
" The charger is just what I was looking for. Small, portable, easy to use and has a long cable. Apple only supplies a short charging cable for this watch; not long enough to reach from my desk top to the floor where my auxillary outlet is. I think all these cables should be at least three feet long, like the one on this charger. But then, Apple would not be as able to sell you a second cable, huh?"
Foldable Design Enables Nightstand Mode
The feature that sets this iWatch charger apart from generic models is the foldable design. And that's not just a gimmick. By flipping up the little arm with the charger head attached, your watch rotates into nightstand mode. A function that turns your Apple Watch into an alarm clock when positioned on the side.
Nightstand mode is enabled by default. If it's not working go to Settings / General / Nightstand Mode to activate it. Place your Watch on the charger, Digital Crown facing up.
You know nightstand mode is activated when the watch lights up with the time showing in big bright digits, along with the date and the battery icon. The display will dim after a few seconds. To bring it back on, just tap the watch screen or gently knock on the nightstand surface .​
Choose Your Color: Silver Or Matt Black?
If you like to choose the charger to match your watch - you can! Two color versions are available:
Glossy-Silver with white USB cable
Matt-Black rubber coating with black cable
Both look great. Make your choice depending on the color of your watch and wristband. I think the black one matches my matt black Sport Band and Space Grey Watch just nice.
The Beautiful Box Makes A Great Gift
Want to surprise an Apple Watch owner with an unusual gift? Found it!
The Lxory Apple Watch Charger is not only versatile and functional, but also comes in a solid box that makes a great gift.
We believe a great product deserves great packaging. And weather you gift someone else or yourself - this one will surpass your expectations.
Compatible With All Watch Models
Just like the original Apple charger, this one works with all Apple Watch Series and sizes (42/38mm). As long as your wrist band is opening (Sport, Woven Nylon, Leather, Milanese Loop and others) you're good to go.
The design of this product is not suitable for closed wristbands (Link Bracelet) like this one:
Portable And Travel Friendly
Wrap the 3 feet long USB cable around the charger and take it along for work or travel. So you can charge your watch everywhere - not just at home.
More LXORY Products: