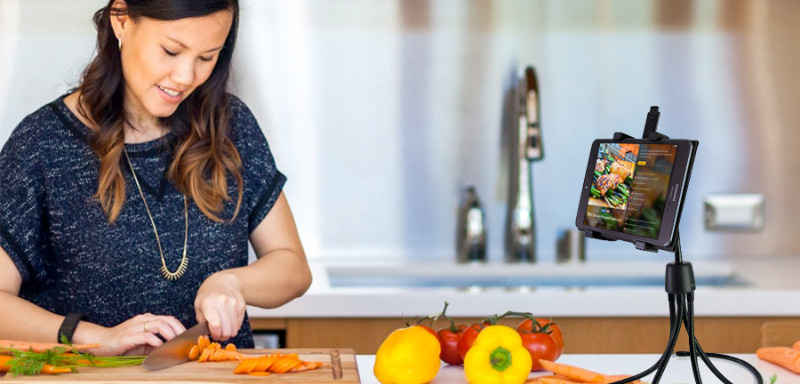 Image source: CookSmarts.com
Innovative Products Help Avoiding the Mess of Old-Fashioned Cookbooks
It's no secret that tablets are disrupting how people perform everyday household activities. Home cooks are increasingly using their tablets to assist in the kitchen. Instead of fumbling with heavy recipe books, chefs make cooking easy by tapping and swiping their way to culinary bliss.
Of course, to go along with this trend, innovative companies have developed technology to help these chefs make the most out of their time in the kitchen. Two new cutting-edge products are here to help make recipe books a thing of the past.
The Fit Men Cook App Makes Cooking Easy, Healthy and More Convenient
The Fit Men Cook App, created by Kevin Curry, works on your iPad, iPhone and Apple Watch.

It includes over 100 easy, affordable and mostly healthy recipes illustrated with professional photos and short videos. You can search the recipe list by ingredient or category.
The built-in shopping list can be sent from your tablet or phone directly to your Apple Watch. As you shop following the list on your watch, you can check off the items bought and never forget an ingredient.
The App also allows the user to increase servings and modify the plan for meals to be cooked ahead of time. With just one day of shopping and cooking, a home chef can create an entire week's worth of meals. The Fit Men Cook app helps you to make cooking easy, every step of the way.
Fit Men Cook App Website
Fit Men Cook App in the iTunes Store

---
The FourFlexx Universal Tablet Stand Lifts The Tablet Off Of The Messy Kitchen Counter
The FourFlexx universal tablet stand lifts the user's tablet off of the messy kitchen counter and puts it on a sturdy, stable and convenient base. It's flexible arms hold the iPad (or other tablet) securely at eye level, and allow for hands-free viewing of recipe ingredients and instructions to make cooking easy.

The tablet holder is versatile enough to fit into just about any space, no matter how cluttered the counter. The device can also hold the chef's smartphone, in order to monitor incoming messages and notifications. In addition to its convenience in the kitchen, parents have been able to use the FourFlexx to watch videos before their children's bedtimes.
Fits all 7 to 13 inch Tablets and iPads
Fully adjustable to any height between 6" and 31" from the floor
The ball-Joint mounted tablet holder rotates 360°
Including Phone Holder

The FourFlexx is now available in our WebShop

As more people take their iPads into the kitchen,
tablet holders that can 'take the heat' became standard in modern households.