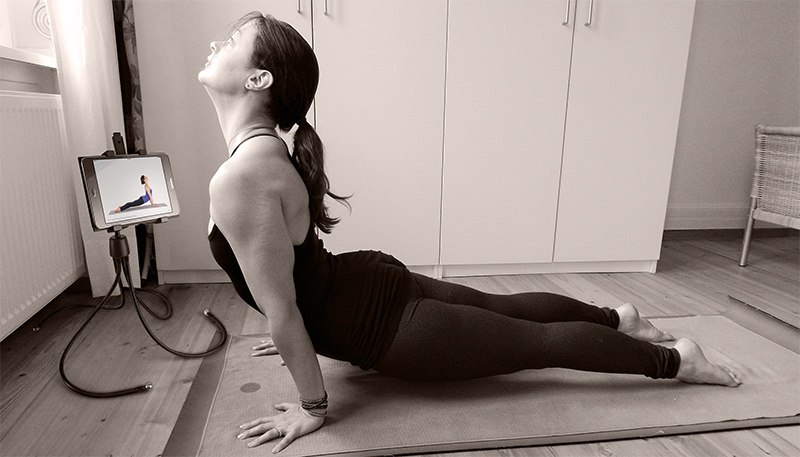 Advanced Technology Allows Fans to Practice Yoga at Home Without Paying Expensive Fees or Fear of Embarrassment
Yoga is one of the fastest-growing activities in the world.
Recent reports show that over 20 million people practice yoga in the United States alone. And sales of tablets have been increasing every year since the introduction of the iPad in 2010. Not surprisingly, yoga practitioners are taking to their tablets to avoid crowded yoga classes, and to squeeze a yoga session into their already jam-packed schedules.
To make the most of a tablet yoga session, one of the leaders in this niche is the FourFlexx tablet holder, a flexible iPad stand developed to give users a hands-free tablet experience.
Transform Any Room Into a Yoga Studio
The FourFlexx universal tablet stand allows you to manipulate the flexible but sturdy base to transform any room in the house into a yoga studio or exercise room. By placing the FourFlexx iPad holder on the floor and bending the flexible arms to hold the tablet at a comfortable level, yoga fans can enjoy their session without having to crane their necks or miss key parts of the video.

LXORY has created an adjustable tablet stand that can be used almost anywhere. Users are continually finding new applications for the product. Not only is it convenient and helpful for practice yoga at home and other exercise routines, the FourFlexx can also be used to help in the kitchen, for watching videos and can clamp onto the back of a car seat to allow kids to enjoy a long car ride with a tablet.
Not Just For Apple Users
In terms of compatibility, the FourFlexx can be used to hold just about any tablet, as long as it is sized between seven and thirteen inches (including iPad, iPad Mini, Acer Iconia, Samsung Galaxy, Google Nexus 7, Kindle, Kindle Fire, Sony eReader, Nook, Kobo, Microsoft Surface Pro and many more).
FourFlexx Key Features:
Modular concept

— flexible, detachable legs can go anywhere
Holds

any tablet between 7"-13"

, including all the most popular tablets on the market
Use it in the kitchen, the living room, the office, the bedroom, the car, at the park, ANYWHERE!
Position anywhere

between 6"-31" off the ground or surface

Ball-joint mounted tablet

holder rotates 360°

to allow for maximum versatility and creativity
BONUS smartphone holder

One of the main benefits of using the FourFlexx for exercise is the ability to avoid expensive gym and class fees. Users can easily set up the FourFlexx in any room. This helps beginners to practice without fear of embarrassment that they look silly when they are starting a brand new exercise program.
YogaStudio – 65 Ready Made Yoga Classes
As far as tablet classes go, the most popular yoga app is currently Yoga Studio, which can be used on any iOS and Android device. It is the perfect complement to the FourFlexx tablet stand for the avid yoga practitioner. Yoga Studio offers 65 different ready-made yoga classes, as well as more than 280 poses, all with easy-to-follow expert instruction and HD video demonstrations. Users can also create custom classes, importing their favorite poses in whatever order they prefer to practice yoga at home.
At only $3.99, Yoga Studio offers the flexibility of a personal yoga instructor without the astronomical expense. Users can choose their level (beginner, intermediate and advanced) as well as duration (15, 30 or 60 minutes) and the focus of their class (strength, flexibility, relaxation, balance or combination). It really is an all-in-one package that will get beginners up and running in their yoga practice, and will also challenge experts through the ability to develop custom routines.
One thing is for sure: as yoga continues to grow as an important part of a healthy lifestyle, so too will the demand for products and services to help users practice yoga at home. The FourFlexx tablet stand and Yoga Studio app are a great combo for any aspiring yogis out there.
The FourFlexx iPad stand is available in our WebShop
The Yoga Studio app is available in the Apple iTunes Store